George Crotty December 19th 2019
Canadian cellist George Crotty has forged his own unique vocabulary on his instrument, filtering inquisitive eclecticism through a vibrant sonic imagination. Expanding outward from the cello's intrinsic lyricism, he introduces nimble fiddle-derived chording and ornamentation, the agile one-finger gestures of Indian classical music, adapted electric guitar manoeuvres, and the bold and varied articulations of jazz bass.  

The Toronto native's expressive fluidity and modal orientation owes much to his immersion in various musical forms. Following his graduation from the eminent Berklee College of Music, he's joined a number of ensembles such as the Canadian Arabic Orchestra, and New York's Brooklyn Raga Massive and collaborated with the likes of Darol Anger, Simon Shaheen, Paquito D'Rivera and Anat Cohen. 

Crotty has recently released the recording Four String Nomad which showcases his both his performative prowess and refined compositional sensibility. Although its constituent material was recorded and debuted in Brooklyn, the project itself was conceived in Toronto and reflects the city's influence. In addition to its widely noted cultural diversity, Toronto's creative community has long been the catalyst for stealthily individual ideas, and seamless but seemingly outlandish fusions of style. Crotty's ethos and sound exhibit these traits, unfolding  with pluralistic exuberance but also the pensive determination one associates with his instrument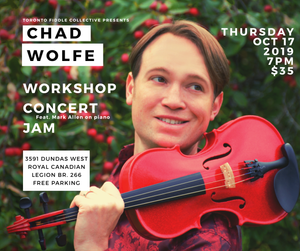 Chad Wolfe October 17th 2019
Chad Wolfe is a former Canadian open stepdance champion and award winning fiddler who has performed across Canada and abroad. He was a principal dancer in the Mirvish production, The Needfire, at the Royal Alexandra Theatre in Toronto, and toured with, Memories of a Don Messer Jubilee. He has performed with Natalie MacMaster, Donnell Leahy, Ashley MacIsaac, and The Great Canadian Fiddle Show.
Chad has dedicated his career to preserving these time-honoured Canadian traditions not only through performing, but also teaching. The Chad Wolfe Studio of Fiddle & Stepdance has been in operation since 1996. He has also taught at fiddle camps and workshops from Halifax to Yellowknife. Over the years, his students have followed in his footsteps winning national titles, entertained alongside some of today's headlining Celtic acts, and starting schools of their own.
Fiddle & Stepdance competitions were a major part of Chad's development as a musician and dancer. He encourages all students and fans to attend these events to keep this important part of our Canadian culture alive. You will still find Chad at many contests through out the summer, either judging, or jamming in the fiddle parks.
Composing is also a passion of Chad's. He has written music for his own recordings, and commissioned work including Musical Theatre productions. Chad is back in the recording studio working on a new compilation of stepdance music for dancers and fiddle fans alike. Watch for "Clogs & Jigs & Reels.... Oh My!" coming soon.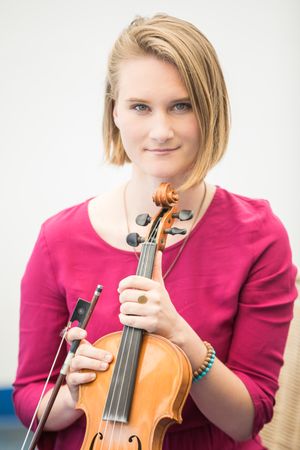 Hayley Ryerson March 21st 2019
Hayley Ryerson is an alluring performer, inspired fiddler, and spirited composer. Her fiddling style is rooted in Scottish and Cape Breton traditions, and her compositions are a natural extension of the genre.
Let The Fire Die (2018) is Hayley's debut EP release. This collection shares her visceral playing style and shines light on her whimsical talent as a tune crafter. She finds her inspiration for tunes in Canadian landscapes, rich feelings, and her love of fiddle music itself.
Hayley recently was the resident fiddler for Seaside Experiences, entertaining Nova Scotian audience daily for the summer months. She is the performing fiddler in Juno-nominated production DRUM!, and fiddles with ECMA Nominee Shreem x Celtic Remixing. She has performed in Frog In Hand's immersive dance/theater productions Creature and Off The Wall, and is the vocalist & song-writer with Canadian folk-quartet Kitchen Orkestra. Hayley received a Pure Dead Brilliant Fiddle Scholarship (2018) and holds a degree in Violin Performance (Humber College 2017).
Hayley has been immersed in Canadian fiddle culture since a young age. She was born in Alberta, learned to fiddle in Ontario, and continued to play on the East Coast. Hayley currently splits her time between Toronto and Halifax.
In addition to her performance career, Hayley has worked as a fiddle instructor in Ontario, Nova Scotia, and the Northwest Territories with fiddle camps and associations, including Canadian Grand Masters Fiddle Camp and Kole Crook Fiddle Association.
Aline Homzy February 21st 2019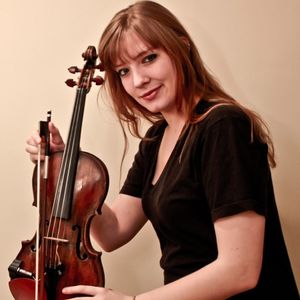 Aline Homzy is a classical and jazz award-winning violinist and composer. From Montreal but living in Toronto, Aline is in high-demand as an improvising violinist and as a session player in Canada. She co-leads a jazz-manouche group called Les Petits Nouveaux, which have found international success having performed at jazz festivals in Europe, the U.S.A. and Canada. Aline is a recipient of numerous grants from the Canada Council for the Arts, the Ontario Arts Council, Toronto Arts Council and has received prizes and awards for her compositions, recordings and musicianship. Aline's most important Toronto-based performances and collaborations have been with David Occhipinti, Michael Davidson and Andrew Downing. She has also performed or recorded with Adam Rudolph, Guido Basso, Barry Harris, Ben Wendel, Danilo Perez and many more. Aline has spent some time in Europe studying with Aki Takase and Mairi Campbell and in New York with Sara Caswell. She has played at the Daigu Jazz Festival in South Korea as a guest with the group Djül led by bassist Yongwon Cho. In April of 2018, Aline won an award to present her version of Bitches Brew at the Canadian Music Centre – the evening showcased 4 different female-led groups presenting their original music. Her band Aline's étoile magique was born at this event along with 5 new compositions. Aline is a violin teacher at Sistema Toronto and at Humber College where she teaches her pupils how to play the violin and improvise while getting the younger generation to think about social causes through music. Aline has performed with Ed Sheeran, Shawn Desmond, Karl Wolf and has been on Fox specials Glee and Masterchef.
Jessica Deutsch- January 17th 2019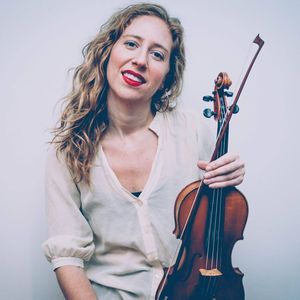 Raised in a musical family, Jessica began the violin at the age of three, and studied with Mark Skazinetsky, the associate concertmaster of the Toronto Symphony Orchestra. She was a three-time national finalist at the Canadian Music Competition and performed the Bruch Concerto with the Huronia Symphony at the age of 13. At 17 she began to branch out and quickly took to a wide variety of World music styles. In 2014, she founded the group Ozere, based on her own compositions. She has performed and recorded with countless artists in Toronto and beyond, including Ventanas, the Lemon Bucket Orkestra, Beyond the Pale, Lenka Lichtenberg, Jayme Stone, Itamar Erez, Doomsquad, Aline Morales, the Canadian Arabic Orchestra and Cris Derksen. She has arranged strings for several artists including Dennis Duffin and Benjamin Barrile. Jessica is currently performing as a fiddle sub in the hit Canadian Musical "Come From Away".
Saskia Tomkins- December 20th 2018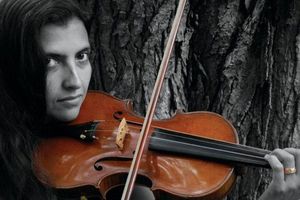 Saskia Tomkins, from the UK, moved to Ontario in 2007 with her family, bringing with them a wealth of musical talent and experience. Saskia's musical abilities on bowed strings are wide ranging, from classical to celtic, to Roma-jazz, to songwriter accompaniment. After seeing Stefan Grappelli perform 3 times, she completed a BA in Jazz and popular music. She has played with countless artists in many genres, including Uriah Heep's 30th anniversary concert, improvising with dancers at Sadler's Wells Theatre in London and learning cello for Michael Bogdanov and the English Shakespeare Company. She has recorded on over 60 albums for other artists and several with her own groups. Saskia is also the All Britain Champion for Irish Fiddle. In Canada, Saskia has worked at 4th Line Theatre for 8 years. Saskia was commissioned to co-write the music with Steafan Hannigan for Driving Miss Daisy at The Capitol Theatre, Port Hope, and developed the music for the Broadway hit, "Come From Away", also with Steafan. She is principle viola in the Northumberland Orchestra, and principle 2nd violin in Quinte Symphony Orchestra and frequently plays with Kim Doolittle and David Newland as their fiddler. Her personal projects include her family band "Clan Hannigan", the instrumental duo "2ish" the Celtic trio "Cairdeas" and the jazz trio "Marsala and the Imports. Saskia currently has 3 albums on iTunes: with "2ish", and with Steafan. In between gigs, Saskia spends time teaching violin and viola, reading books and watching the birds out of the window.
Karrnnel Sawitsky- November 15th 2018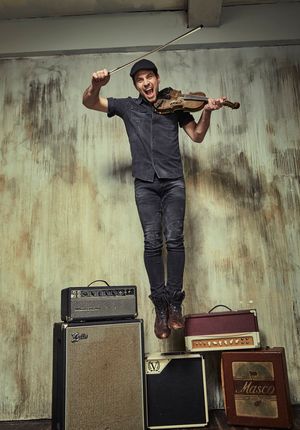 Passionate. Creative. Captivating. Karrnnel is without a doubt one of Canada's most accomplished and innovative fiddlers and musicians as a recording artist, teacher, performer and composer. Karrnnel is changing the face of fiddle music.

In 2018, Karrnnel will be busy performing around the world with tours booked across Canada, the US and Europe, just as he has completed in 2014, 2015, 2016 and 2017. In addition to this, he will continue his process of writing music that is distinctly his voice and that which transforms the ideals of what the fiddle can do. With 3 albums in the works for 2018, this is the year that Karrnnel is set to truly ink his mark in the music world.
Karrnnel has been honing his skills on the fiddle for over twenty-nine years and he has garnered numerous awards, nominations and high acclaim to his name. A wildly dynamic live performer, he is consistently invited to showcase and perform on the provincial, national and international stage. Known for his distinct style and exceptional technique, Karrnnel is highly regarded for his unique approach in breaking new ground in the traditional fiddle world.

Karrnnel has established himself as one of the most original and decorated musicians in the country. He is the most successful competition fiddle player in Saskatchewan's history, is multi-nominated and a winner at the Western Canadian Music awards and the Canadian Folk Music Awards - including a nomination for Solo Instrumentalist of the Year - and was nominated for Instrumental Song of the Year at the 2012 International Independent Music Awards.

Since the age of 4, he grew up playing in a family band with his two sisters (Kimberly and Kanndece on fiddle) and his father (Orest on accordion) traveling all across North America as The Sawitsky Family Fiddlers. From there, Karrnnel has gone on to develop a successful and critically acclaimed performance and recording career which includes performances all across North America and Europe and the release of 5 award nominated albums since 2009.
In late 2011, Karrnnel and three musical friends formed a new band called The Fretless and in 2017 they won the JUNO Award for Instrumental Album of the Year for their album Bird's Nest. 2018 will mark the release of their fourth studio album, while their debut album 'Waterbound' and followup self-titled albums were met with critical acclaim across Canada, the US, and Europe.

Karrnnel is one of the most active and authentic composers of fiddle music around the world. He has composed over 300 songs to date, and in 2010, he began the process of writing full orchestrations for his original music (an exercise he continues today). Karrnnel is also very active on the education/teaching side of music sharing his musical gift at various music camps, workshops and school workshops across Canada that focus on sharing the traditions of old time music and dance.

Weather he is teaching, performing, writing, collaborating, arranging, or recording, Karrnnel consistently amazes audiences with his passion and expertise of the music he plays.
Alana and Leigh Cline- October 18th 2018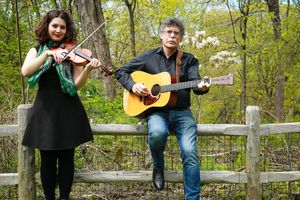 Alana and Leigh Cline are a Toronto based Celtic fiddle/guitar instrumental duo who combine Irish, Cape Breton and Scottish styles to create their own sound. They also include occasional Balkan tunes in their sets. Alana & Leigh have a self-titled CD released in October 2016.

Alana first started playing at the age of 8 under the tutelage of Cape Breton fiddler Sandy MacIntyre. Alana also studied privately with All-Ireland Fiddle Champion Maeve Donnelly over a period of two years. She has augmented her playing style with private lessons from Irish fiddlers Kevin Burke, Liz Carroll, Tony DeMarco and Patrick Ourceau. In 2008 Alana became the first Canadian to be accepted to the auditioned Meitheal School of Irish Traditional Music in Limerick, Ireland with Paul O'Shaughnessy of Altan as one of her instructors. She has also studied fiddle at the Gaelic College of Celtic Arts in St. Ann's, Cape Breton, Nova Scotia.

Alana and Leigh have performed at various events including the Great American Irish Festival, Trenton Scottish Irish Festival, City of Toronto's Canada Day Celebrations at Mel Lastman Square and Yonge-Dundas Square, Tourism Ireland, The Taste of the Danforth, Music Niagara, Northern Irish Connections/Invest Northern Ireland, Destination Halifax, The Toronto Redpath Waterfront Festival, The Royal Winter Fair, The Granite Club, The Toronto Christmas Market, The Downtown Milton Street Festival, The Toronto Public Library, folk clubs, private corporate events, weddings, pubs and private parties. As a soloist, Alana has performed at events for organizations such as Fredericton Tourism, The Toronto Irish Film Festival, The Ireland Fund, Golf Newfoundland and Labrador, as well as the Distillery District East Coast Festival. Alana hosted the weekly session at Toronto's An Sibín Pub for over three years.

Leigh was part of the Toronto/Yorkville folk scene of the 1960s, travelling throughout North America as a folk music performer. For the Mariposa Folk Festival, in the '60s and '70s, Leigh was Artistic Director, Stage Manager and Technical Director, and did World Music Research. Leigh was able to learn musical styles and guitar firsthand from the likes of Mississippi John Hurt, Skip James, Bukka White, Maybelle Carter, Lonnie Johnson, Bill Munroe, Merle Travis and Doc Boggs. He also worked for the Canadian Broadcasting Corporation doing music research for TV documentaries.

Leigh was sound engineer for many performers including The Chieftains, Joni Mitchell, Judy Collins, John Allan Cameron, Fleetwood Mac, Aly Bain and the Boys of the Lough, Procol Harum, Bruce Cockburn, Rod Stewart, as well as touring with Ian & Sylvia & The Great Speckled Bird.

For many years he worked in Greece and Turkey with top folk and nightclub singers and musicians. These included Nikos Xilouris, Domna Samiou, Stathis Nikolaidis, Tasos Halkias and Mihalis Kaliontzidis, as well as many others, both in the folk and bouzouki nightclub genres.

Leigh is the author, with fiddler Sandy MacIntyre, of the Mel Bay publication "Cape Breton Traditional Style Fiddle Sets with Guitar Tablature". Leigh has three solo CDs "Orient Express"; "Galatia", a Celtic/Pontic Greek fusion CD single; and "Al Asha Bi Daha", all of which are available on iTunes.
Emily Yarascavitch- September 20th 2018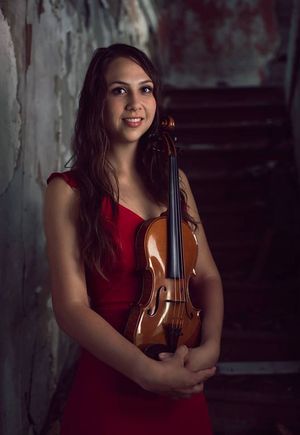 Emily Yarascavitch began step-dancing at age 4 and took up the fiddle a short time later. Her love for both led her to the competition circuit at 6 years of age where she has received several titles such as: Junior Canadian Champion, a Grand Masters Junior Showcase Performer, two time Canadian Open Duet Champion and a Canadian Grand Masters Finalist. She is trained in various fiddle styles as well as classical violin through the Royal Conservatory of Music. 
Emily released her debut CD My Passion in 2009 and released an EP with her trio Branches of Silver in 2015. She currently tours North America professionally with The Tartan Terrors; North America's Premiere Celtic Event. She has toured across Canada with the Scott Woods Band and plays regularly with Phill Hood and other solo artists. 
As a classical musician she has completed Advanced Theory and playing examinations. She also played in instrumental chamber ensembles throughout her music minor at University.
She is a graduate of the University of Waterloo in Honours Sciences with Minors in Biology and Music. Emily currently runs a full teaching studio in Oshawa ON, providing lessons in Violin, Fiddle, Stepdance and Music Theory. 
Jaron Freeman-Fox- June 21 2018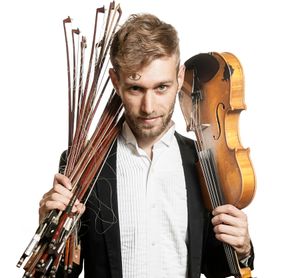 Bred in the mountains of Canada's rural north-west, Jaron Freeman-Fox redefines what the violin is capable of, and gives you no choice but to take his mutant species of music on it's own terms.  Having produced or played on over 40 albums (Teresa Doyle, Jayme Stone, Autorickshaw) and toured the globe many times over as a solo artist, bandleader or collaborator with artists such as Delhi 2 Dublin, Ben Caplan, and Sam Lee, Freeman-Fox fuses his roots of fiddling and jazz with his musical studies in India, Sweden, and Indonesia, while playing the 5-string violins of his late mentor; fiddle pioneer Oliver Schroer. On a seemingly endless tour for the past 6 years, Jaron performs full-time with his award-winning band Jaron Freeman-Fox & The Opposite of Everything, as well as his his new experimental duo project, using an expanded-range electroacoustic 12-string violin set-up of his own design. Folks may be intrigued by the fact that JFF has performed for 100,000 people and the young royal couple on Parlimant hill, or that the Canadian Embassy was kind enough (or foolish enough) to send him off to collaborate with a troupe of nomadic Rajasthani gypsies at the Delhi International Arts Festival, or that his first ever album Manic Almanac : Slow Möbius won an Independent Music Award, or that he's shared the stage with Canadian legends Marc Destrubé, Tanya Tagaq, Trichy Sankaran and James Kudelka.  Jaron however, is most proud of the fact that he's broken three different fiddles on stage and zero bones, had his violin stolen by monkeys in Bali and got it back without contracting rabies, and has the honour of featuring his absolute favourite musicians in the world, in his band The Opposite of Everything. The Opposite of Everything: Described as "Tom Waits playing the fiddle, backed up by the Mahavishnu Orchestra", The Opposite of Everything transform Jaron's intricate compositions into an infectious party!  All the while maintaining "a delicate tactile mystery". After 6 long years of touring non-stop around the globe, the band has a new album in the works for release later in                                                                                               2018.  
Shane Guse - May 17 2018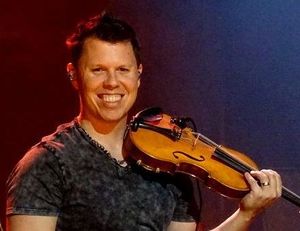 Five time CCMA Fiddle Player of The Year, and CCMA Award Winner for Specialty Instrument (Mandolin), Shane Guse has become a top call musician on stage, radio, television, in studio and beyond. His album credits include many award winning projects, and some of the most played songs on Canadian Country radio. Most recently Shane can be seen performing with numerous Canadian Country artists, including JUNO and CCMA winners Dean Brody, George Canyon, Jason McCoy and Jason Blaine and has performed with pop superstars such as Richard Marx and Colin James, as well as Western Swing Hall of Fame inductee Carolyn Martin. Some of his most memorable shows have been performing on the legendary Grand ole Opry, playing overseas in Kandahar for the UN troops and at the the CMA Music festival in Nashville. He is a featured performer on CMT and can be seen in several specials and videos. Shane is the founding member and leader of the Canadian Roots "super-group", The Western Swing Authority. This multi-award winning group is made up of some of Canada's top touring and studio musicians, whose critically acclaimed albums are enjoying airplay in 17 countries all around the world.

Shane is the Canadian Country Music Association Fiddle Player of the Year for 2010, 2011, 2014, 2016 and 2017. As well, Shane has more than 20 other CCMA nominations to his credit and is an inductee to the CCMA Hall of Honour. He has also received, 3 Country Music Association of Ontario Awards (2014, 2015 Roots Artist, 2015 Group of the Year), an Academy of Western Artists Award (Best Western Swing Band 2014) and is a two time Independent Music Award winner.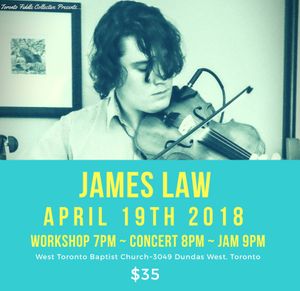 James Law- April 19 2018
James Law has been soaked in the traditional music of Scotland since he was born in 1989. James grew up in Roberts Creek, BC where he began learning fiddle. Both his parents being Scottish he was surrounded by the music at a young age playing along to cd's in the house and learning traditional music from teachers at various fiddle camps every year. James began performing at the age of 7 with The Coast String Fiddlers. He performed with the group all through his elementary and high school years to the age of 18. James has won notable awards even at a young age. Some of these awards were, 1st place in the Junior Class NW Regional Scottish Fiddle Championships in 2003 and 2nd place in the Junior Class US National Scottish Fiddle Championships also in 2003. James completed his Bachelor of Music at Humber College in Toronto, Ontario. While at school James started celtic trio called "NUA" with his long time friend Graeme McGillivray and newly acquainted Jacob McCauley. NUA has released 2 full length albums the second of which was nominated for a Canadian Folk Music Award. James is also a drum kit player in a independent rock band called "The Marwills" the band has released 2 full length albums and preparing to release their third album in July 2018. Aside from his two main projects James Law has worked with musicians such as, Oliver Schroer, Ian Fraser, Harris Playfair, James Ross, Ross Ainsley, Daniel Knibbe, Skye Wallace, Nate Douglas, Next Generation Leahy, The Fitzgeralds, The Great Canadian Fiddle Show and many others.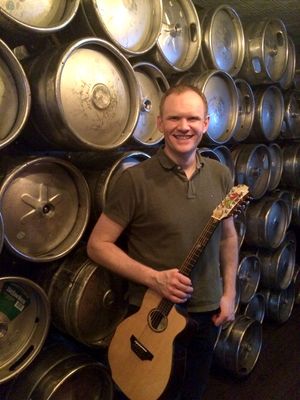 Graham Lindsey- March 15 2018
Graham has been writing instrumental tunes since 2014 and they have been getting some significant attention, with performances on Canada's Parliament Hill (played on the Carillon, the 53 bells inside the Peace Tower), playing Örebro, Sweden's Folk at Heart festival, and other venues in Ontario and on the East Coast. Graham has played folk and Celtic music since 2007 and has a background in percussion and brass in a more "classical" setting, playing with wind orchestras, concert bands and an orchestra or two. He's been a percussionist since 1990, so he is very comfortable in the rhythm section - but Graham found it a much more natural fit playing melodies on strings and wind instruments.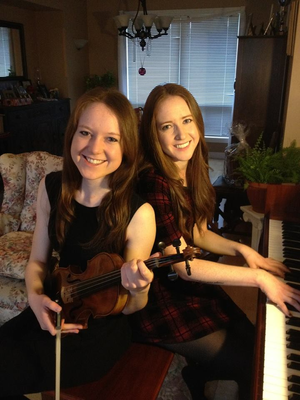 Alanna & Colleen Jenish- February 15 2018
An award-winning fiddle player, and accomplished classical musician, Alanna grew up in an Irish-Canadian family of traditional music lovers. Her musical journey began at the age of 6 when she started classical piano lessons, and soon expanded to include the fiddle shortly thereafter. With a keen ear and natural feel for the music, Alanna won her first junior fiddle championship after only 9 months of playing, and has since accumulated numerous awards and championship titles. Now in her early twenties, Alanna has over ten years of performing experience under her belt, and is widely sought after as both a lead and back up musician. She has toured professionally with groups such as the Scott Woods Band, as well as The Great Canadian Fiddle Show, and maintains a busy schedule freelancing for numerous bands and solo artists. As a studio musician, Alanna has completed work for Canadian Country group Runaway Angel, as well as folk artists Hunter Sheridan and Jacob Henley. This past fall, Alanna was honuored to be nominated as Fiddle Player of the Year (CCBAs).As a classical musician, Alanna earned her Bachelor of Music with Honours from the University of Toronto in 2017. She completed her Grade 10 Royal Conservatory Violin Exam in 2012, and has also achieved advanced certification in Music Theory. Alanna has enjoyed playing in ensembles such as the La Jeunnesse Youth Orchestra (of which she was given the honour of sitting as concertmaster for two seasons), and the University of Toronto Symphony Orchestra throughout her undergraduate degree.Alanna's dedication to her instrument, paired with an intuitive feel for the music has earned her great respect on the Ontario music scene.
Colleen Jenish- Colleen began her musical journey in the Ottawa Valley where she took her first Stepdance lessons at the age of four. Soon after, she began lessons on the piano and fiddle. Colleen has been competing in fiddle and step dance competitions all over Ontario for almost 20 years and is currently the Ontario Open Stepdance champion. She performs regularly with her sister Alanna and with the Great Canadian Fiddle Show. Colleen recently obtained her Bachlor of Science and Psychology at the University of Toronto Scarborough and is now the research coordinator for the Music Cognition Lab in Toronto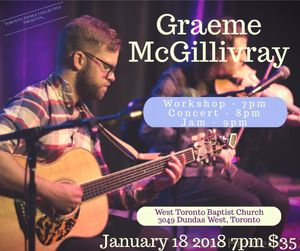 Graeme McGillivray - January 18 2018
BC born fiddler and guitarist, Graeme McGillivray, has been playing the fiddle since he was 3 years old. in recent years, he moved for Canada's west coast to Ontario to complete a degree at the University of Toronto for guitar performance. You can find him performing with groups like The Great Canadian Fiddle Show and Canadian Folk Music nominated group, Trio NUA.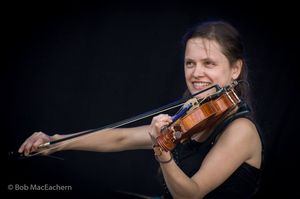 Kerry Fitzgerald - November 2017
Kerry's performing career began at a young age with her family group, Everything Fitz, which has taken her on several extensive North American tours. She currently tours internationally with The Fitzgeralds, including recent tours of North America, Ireland, and the UK. As part of these tours, The Fitzgeralds were featured as musical guests on the BBC and RTE Nathan Carter special. A video of their high-energy dance performance has recently went viral via Ireland's Independent.ie, with over 3 million views! The Fitzgeralds continue to be a hit at major festivals including Milwaukee Irish Fest (US), Dayton Irish Fest (US), Cleveland Irish Fest (US), Iowa Irish Fest (US) Shrewsbury Folk Fest (UK), Mariposa Folk Fest (CA), Stan Rogers Folk Fest (CA), among others.​
Kerry also tours with The Stepcrew, The Great Canadian Fiddle Show, and The Tartan Terrors. She has been a guest fiddler and step dancer with Nathan Carter, Natalie McMaster, Leahy, and We Banjo 3. Between tours, she also completed a double major in Kinesiology and Foods&Nutrition from Western University!Kerry teaches music workshops, private lessons, and music camps including: Leahy Music Camp, AlgomaTrad, and Orangeville Fiddle Camp. On the Canadian competition scene, she is an Ontario Open Step dance Champion and Canadian Grand Masters Fiddle Finalist. She now judges both fiddle and step dance competitions, including the Ontario Open competition.
Elise Boeur- October 19th 2017 -
Elise Boeur's relationship with her instrument runs deep.  At age 14, her passion for Irish traditional music led her to travel to Ireland alone, studying Donegal fiddling and the Gaelic language along the north-west coast.  At 17, she moved to Ireland and supported herself as a busker for a year while steeping herself in the Irish fiddle tradition.  Back in her hometown of Vancouver, she studied a variety of violin styles at the VCC School of Music, including free improv and jazz.  The lilt instilled through her early Irish immersions has remained an element of her playing throughout her explorations of modern music, making hers a distinct voice in the Vancouver creative music scene.
In recent years, Boeur's open ears have turned to the rich musical traditions of Scandinavia.  While many North American fiddlers have heard of the hardingfele – a Norwegian fiddle variant with sympathetic strings – most don't get a chance to see or play one.  Boeur's curiosity and enthusiasm about the instrument and its music led her to surmount this challenge by simply making one.  Despite having never removed a fingerboard, reamed holes for tuning pegs, or refinished an instrument before, she set about converting one of her violins and documenting the process on a popular blog dedicated to the process.  That this seemingly crazy pursuit was an incredible success is a testament to Boeur's almost headstrong determination to follow her creative impulses at all costs. Boeur now plays a 2011 hardingfele built by Norwegian luthier Jarle Hagane.
Her love for Scandinavian folk music resulted in travels though the musical heartlands of Norway and Sweden, and an inspiring exploration of the sub-Arctic region of northern Norway.  Supported by a BC Arts Council Professional Development grant, she returned to Norway to study traditional Norwegian hardingfele and fiddle music under Ånon Egeland at the Høgskolen i Telemark college of folk arts in 2012. She has developed this music in adventurous duos with Swedish guitarist Simon Nyberg and Norwegian multi-instrumentalist Michael Caplin, with her Vancouver-based instrumental trio Marmota. Currently concentrating on a duo with New York bassist Nate Sabat, and her new 5-piece prog-trad band Aerialists, Elise is joyfully exploring the reaches of contemporary Scandinavian folk music. In 2013, Elise was the recipient of the full-ride Slaight Family Scholarship to Berklee College of Music, where she is currently studying and immersing herself in Boston's vibrant acoustic music scene.
Somehow, Elise has found time around her own personal multi-faceted fiddle journey to lend her talents to dozens of bands and recordings, including work with the Jenny Ritter Band, O'Mally, Fish & Bird, Anthony Braxton's Sonic Genome Project, Giorgio Maganensi / Vancouver New Music, Morlove, The Paperboys, David Newberry, Sarah Jane Scouten, Joel Battle Band, La La Boom Boom, Breakfast Trio, Jesse Griffith, and more.As a string ensemble member, Elise has performed with Dream Theater, Darol Anger and Allison Brown, Karim Wasfi, Alejandro Sanz, Karthik, and A.R. Rahman.
Anne Lederman- September 21st 201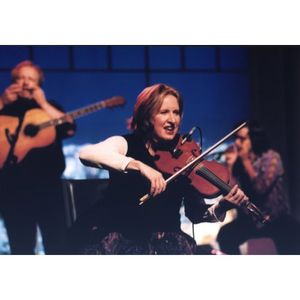 7 
Fiddler extra-ordinaire, singer of grace and power, composer, storyteller, playwright, thwanger of jawharp, rattler of bones, tapper of feet, and no slouch on mandolin and piano, Anne is showing us all where Canadian music can go, from past to future. Through her work with such groups as Muddy York, The Flying Bulgar Klezmer Band, Chutzpah!, Siyakha, Njacko Backo and Kalimba Kalimba, LOKA, Eh?!, and her own Fiddlesong and Come From Every Way bands, Anne has been re-inventing our idea of Canadian music for 25 years. She has graced stages and recording studios with Harry Hibbs, Don Freed, Eileen McGann, Margaret Christl, Grit Laskin and Ian Robb, Oliver Schroer, Don Ross, Cindy Thompson, Holly Cole, Tom Leadbeater, Enoch Kent, Theresa Tova, Garnet Rogers an
Veronica Tennant among others. She has been heard at countless festivals, concerts, dances, schools and libraries, on CBC's Morningside, Gabereau,
Musical Friends, Midday, Road to Avonlea (as the fiddle of Gus), The Vinyl Cafe and Friday Night with Ralph Benmurgui.Anne's immersion in old styles - Celtic, Aboriginal, Klezmer and African musics, her rare ability to sing with the fiddle, and her ground-breaking composition make her a performing sensation. Known especially for her work with the Métis traditions of her home province, Manitoba, Anne's recordings have helped make this music known to the world. Her musical play about her experiences with Aboriginal fiddling, Spirit of the Narrows, received rave reviews two years running at the Blyth Theatre Festival. Meanwhile, her fiddle concert series in Toronto, Dare the Devil, has helped pave the way for a new generation of fiddlers. 
Pierre Schryer- August 17 2017-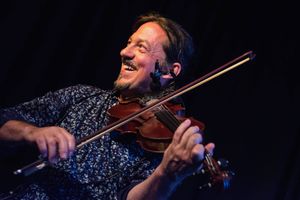 Fiddle, Foot Percussion Celebrated performer and producer Pierre Schryer has established himself as a gem on the Celtic music scene among fans and fellow musicians the world over. Undoubtedly one of the finest fiddlers of his generation, Pierre's background stems from the vibrant Franco-Ontarian culture of Canada. From an early age he was immersed in the music of his heritage at Canadian fiddle competitions, performing with his brothers as "The Schryer Triplets" with whom he recorded 2 albums and appeared on radio documentaries and television shows, including "The Tommy Hunter Show." As a solo performer, Pierre has received numerous titles and awards including Canadian Open Fiddle Champion, Canadian Grand Masters Fiddle Champion, Violoneux Championnat and North American Irish Fiddle Champion. For three decades Pierre has been touring in North America, the UK and Ireland, headlining festivals and Symphony Pops series, and captivating audiences with his musical finesse, genuine warmth, and stunning technical ability in a variety of styles. With six solo recordings released on his own label New Canadian Records, Pierre has nominations from the JUNO awards and the Canadian Folk Music Awards, as well distribution by Claddagh Records, and tracks for Real World and Virgin records. Currently, Pierre is touring and performing as a member of the new group "3TíR," a dynamic trio with Irish accordionist Dermot Byrne and Canadian Westcoast guitarist Adam Dobres. 3TíR will be embarking on a 40-day multi-festival Canadian Tour in Summer 2017. Also an accomplished luthier and watercolour artist, Pierre plays one of his own violins and has created the cover art and design for his recordings. Pierre is the founder and artistic director of the "Canadian Celtic Celebration", an annual three-day festival presented in Thunder Bay, Ontario. Dedicated to passing on the tradition, Pierre teaches the art of fiddling at fiddle camps around the country and is committed to creating community through traditional music sessions and ceilidh dances.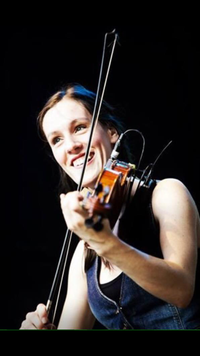 Julie Fitzgerald - June 16 2017- 
Julie Fitzgerald is an accomplished fiddle player and step dancer from Bancroft, Ontario. She is a 2-Time Canadian Grand Masters Fiddle Champion, as well as 2-Time Open Step Dance Champion. Since her early days of old-time fiddle, she has diversified and become an accomplished fiddle player of many styles. She is a member of the family group "Everything Fitz: The Fitzgerald Family."
Julie has been in high demand for both her fiddling and dancing as a performer in various groups across North America. She has had the opportunity to perform internationally with many of her lifelong musical 'idols' including Leahy, Natalie MacMaster, members of Stepcrew & Bowfire,Troy MacGillivray and Wayne Rostad. While touring with The StepCrew, Julie has also had the opportunity to share the stage with Sharon Shannon, We Banjo 3, Carlos Nunez, Solas, and Eileen Ivers.
Julie just graduated from Humber College (Toronto) for the Bachelor of Music program. Julie's love of passing on the Canadian traditional music and dance led to the creation of her first (and certainly not the last!) instructional step dance DVD. Whenever she is taking a break from touring, Julie teaches private dance and fiddle lessons to students in the Peterborough area. She also enjoys teaching at music camps, including the Leahy Music Camp (Lakefield, ON). Because of her experience as a touring musician, she realizes how many people across North America are introduced to, and interested in learning more, about Canadian step dancing. In response to this observation, she is now offering online step dance instruction directly off of her website! Julie's innovation and passion for performing and teaching Canadian step dancing and fiddling will keep your toes tapping, your brain working, and keep you smiling!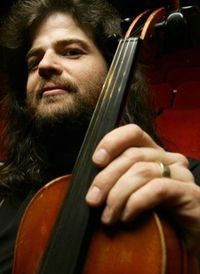 Dan MacDonald- May 25 2017- 
Dan MacDonald is from a family of musicians from the small village of Ironville, Cape Breton and began playing fiddle at a very early age. His fiddle education came mostly from his father, Lloyd MacDonald, who is a well-known and respected Cape Breton fiddler, and from the surrounding musical culture of Cape Breton Island. Cape Breton Fiddler's Association practices in Baddeck, the Gaelic Maud in St. Ann's, playing for dances in Glencoe and playing for Highland dance and Cape Breton stepdance groups formed the basis for his music. The big Cape Breton concerts: Big Pond, Cheticamp, Highland Village day, Broad Cove and many others were the backdrop of his childhood. In the late 1980's, MacDonald, and his family formed Scumalash, a traditional Cape Breton band, with whom he toured throughout the United Kingdom between 1988 and 1992, culminating in the release of a self-titled album. Scumalash recently returned from a reunion tour of England.
In 2001 MacDonald moved to Bowling Green, Ohio where he began playing with a traditional Irish group, Toraigh. Toraigh toured the Celtic festivals of the Midwest, including the Cincinnati Celtic Festival, Dayton Celtic Festival, and the Newport Irish Festival. During this time period MacDonald was also able to compete twice in the Midwest Fleadh (regional Irish Music competition) in the senior fiddle and ceilidh band competitions with a band involving some of Detroit's foremost Irish musicians, placing second in both categories.
MacDonald moved to Toronto in 2003, where he became a co-host at the Irish music session at Dora Keogh Irish pub and later became a member of the traditional Irish group, Spraoi. Spraoi has played to sold out audiences at the Tranzac, Hugh's Room and the Brampton Folk Festival. In 2006, MacDonald became music director of The Magic of Ireland, an Irish dance and music show, with which he toured the UK, Canada, the USA and Europe. An active freelance performer and teacher, MacDonald is in high demand throughout Southern Ontario, where he performs and teaches at various venues and events.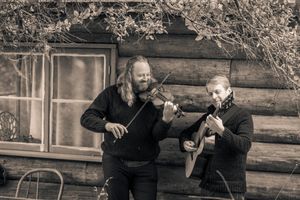 Edwin Huizinga- November 17 2016
Canadian-born violinist Edwin Huizinga is quickly establishing a reputation as one of North America's most versatile violinists. Performing both baroque and modern repertoire he enjoys performing with musicians from all kinds of genres worldwide. As a soloist and chamber musician, Edwin has performed with the San Bernardino Symphony, the Note Bene Ensemble, the Kitchener-Waterloo Chamber Orchestra, the Georgetown Bach Chorale, the Carmel Bach Festival, the Sweetwater Music Festival, the Trinity Alps Chamber Music Festival, and Banff Summer Arts Festival, among others. As a baroque violinist, Edwin has toured throughout North America, Europe, and Asia with the world-renowned baroque orchestra Tafelmusik, Opera Atelier, the Wallfisch Band, Aradia Ensemble, and Theater of Early Music. He is a founding member of the baroque ensembles Passamezzo Moderno and ACRONYM, and is a member of the string trio Academy Concert Series. Edwin has served as guest director of the Atlanta Baroque Orchestra, as a guest artist with I FURIOSI Baroque Ensemble, and as guest concertmaster of the New Dutch Academy and the Kansas City Baroque Orchestra. As a modern violinist, Edwin has performed all over the US and Germany with The Knights NYC, and has recently joined the contemporary quartet OSSO based in NYC. Edwin has worked with notable conductors along the likes of James Gaffigan, Bruno Weil, Simon Rattle, Matthias Pintscher, Paul Goodwin, Jane Glover, and more. In addition to his career as a classical violinist, Edwin is a member of the Juno-nominated indie rock band The Wooden Sky. He has performed with Broken Social Scene and Jazz Mafia, and has recorded with The Mars Volta and Vanessa Carlton, Great Bloomers, the Minators, among others. Edwin has a passion for bringing chamber music to the people and is a founding member of the Classical Revolution which began in San Francisco in 2006. He currently serves as the Artistic Director of the Toronto Chapter of Classical Revolution, which he founded in 2010. Through Classical Revolution, he and his colleagues are shaping a future of concerts and jam sessions in alternative spaces around the world. Edwin's dedication to music education led him to his current position as Artistic Director of the Big Sur Music Camp. He has coordinated outreach with the Banff arts Centre, Oberlin College, Panama City, Panama, the Carmel Bach Festival, and more. He also currently teachers with The Hammer Band's Violence to Violins program in Toronto, reaching children in at-risk neighbourhoods who may otherwise never have an opportunity to learn music or play an instrument. Edwin has a Bachelor of Music degree from Oberlin Conservatory and a Master of Music from the San Francisco Conservatory of Music.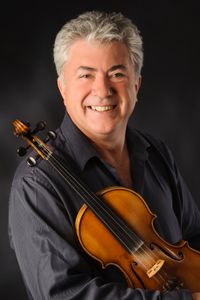 Gerry O'Connor- Nov 11 2016
Gerry O'Connor grew up in the town of Dundalk, County Louth in a family of musicians, dancers and singers. His mother taught Gerry and his siblings at home and she continued to teach from there for the next 40 years. Students travelling from Armagh and Dublin as well as closer to home to learn from the doyenne of fiddle teachers. His father Peter was a singer whose seven uncles all played music. From an early age Gerry was involved Irish music and dance, winning numerous All Ireland titles between 1967 and 1973 in a range of formations including duet, trio and four Céili Band titles. Playing with Michael Coleman's contemporary John Joe Gardiner in the 1970's formed Gerry's style of music, focussing on the fluid and ornamented lyrical fiddle playing of the great Sligo masters. His own background in step dancing translates into a vibrant pulsating dance music for which he is noted; today he is regarded as one of the great fiddle players of his generation.
 
He has played and recorded  with such highly-regarded groups as Lá Lúgh (Eithne Ní Uallacháin, Sony Music) and Skylark  (Len Graham, Gary O'Briain & Mairtin O'Connor), recording four CDs on the Claddagh label. Gerry has toured and recorded with members of all the legendary groups including Planxty, Bothy Band, De Dannan, Boys of the Lough and Chieftains.  Lá Lugh's album "Brighid's Kiss"  was voted Album of the Year 1996 by readers of the Irish Music Magazine. His solo album "Journeyman" was counted in the top five Albums of the year 2004 by the Irish Times. This critically acclaimed  solo album, co-produced with his son Dónal (At First Light), was heralded as a significant milestone in recording the music of the "Oriel" region of South Ulster.

His 2006 live album "In Concert" recorded with Gilles le Bigot  (Barzaz, Skolvan) was a celebration of the cultural links between Ireland and Brittany. This duo has toured continually for the last 14 years.   During 2006-7 Gerry recorded and toured with The Irish Baroque Orchestra under the direction of Elizabeth Wallfish, recording Ardee Dances, a piece commissioned for Irish Fiddle and Baroque Orchestra and written by Rachel Holstead. Gerry continued to perform with Wallfisch in the Wandering Fiddlers project performing at the Wigmore Hall and the Brighton Early music Festival. "Jig Away the Donkey", an album  focusing on the Music and Song of South Ulster with Martin Quinn and Gabriel McArdle was released in 2010 and in 2010 also Gerry produced an album of Fermanagh musician Séan Nugent's compositions. "The High Hills of Larghy". Featuring many of Seans students , music friends and family. From 2005 -2010 he taught Traditional Music Performance at Dundalk Institute of Technology, during which time he completed a Masters by Research on  Luke Donnellan's Dance Music of Oriel. (2008) In 2011 he produced  "I Have Travelled this Country" documenting 123 mostly unrecorded  songs of Boys of the Lough musician Cathal McConnell.

With Nuala Kennedy, Martin Quinn and Gilles le Bigot, Gerry released the album Oirialla in Nov. 2012 at the Celtic Colours Festival in Cape Breton, Canada. This band is currently touring and in demand for festivals.Recent re-releases of his music can be heard with Desi Wilkinson and Eithne Ní Uallacháin of the album Cosa Gan Bhróga (Gael Linn) and Senex Puer on IML. With the vocal accapella trio White Raven led by Kathleen Dineen, Gerry has recorded and performed throughout Europe at International Choral Festivals including RheinVocal and Merano. He is currently touing  and has recorded with much celebrated Irish-Canadian-based group The Irish Rovers. A four times winner of The Fiddler of Oriel competition, Gerry has recently adjudicated the same competition and also the Gael Linn sponsored Siansa and RAAP /RTE sponsored Breakthrough competitions. He was co-founder and first Artistic Director of Ceol Chairlinn, an annual teaching festival in Carlingford , Co Louth. He is also the Traditional Arts coordinator  at the newly established Creative-Connexions Irish/ Catalan Arts festival in Sitges. He teaches fiddle at the Willie Clancy Summer school and at master-classes throughout Europe. When at home Gerry works as a violin maker/restorer.



La Forcelle- October 20 2016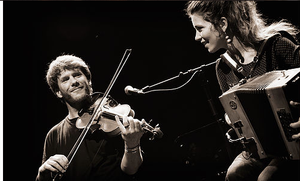 La Forcelle is Camille Raibaud on fiddle and Lolita Delmontreil Ayral on diatonic accordion. Together, they have spent years discovering the traditional music of Gascogne (region in the south-west of France) through old recordings and jam sessions and they transform it, arranging it to make a current music which is strongly tied to its roots. For La Forcelle, traditional music is a springboard for connecting current music and experiences with a living history of music, dance and land. A trance music, very closely tied to dances that have been connected to the rolling hills of Gascogne for centuries. Since 2008, they have performed concerts and folk dances across Europe, in their home country of France, and in Italy, Catalan, and Portugal. In October 2016 they are in Canada for their first time, performing for Bal Folk dances and doing workshops between Toronto and Montreal.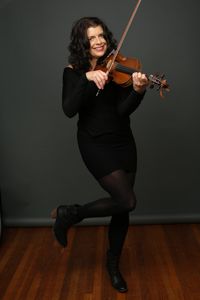 ANNE LINSDAY- June 16 2016 and April 20 2017
Anne Lindsay has established herself as one of the most engaging and versatile instrumentalists in Canada, adapting her unique violin/fiddle style to the eclectic sounds and musical languages of this country's rich cultural texture. She is an exuberant fireplug of a session-player-to-the-stars (Led Zeppelin, The Chieftains, Blue Rodeo, James Taylor, Roger Daltry) whose skills have graced many a stage around the world. Anne has played on hundreds of recordings and is a featured performer with the Jim Cuddy Band, The Skydiggers and John McDermott. She was the resident fiddler for the Toronto Maple Leafs and the stage production of The Lord of the Rings. She has also built a formidable career on her own as a musician, composer and vocalist — all showcased brilliantly on her new album, Soloworks.
Anne has already released three award winning CDs of her own and has won numerous awards including: Solo Instrumentalist and Producer of the Year (Canadian Folk Music Awards), Jazz Violinist of the Year (National Jazz Awards) and the K.M. Hunter Award (Ontario Arts Council). Her new CD SOLOWORKS is a departure. It consists of 13 solo compositions that Anne performs alone, on violin, voice, piano and nyckelharpa. From toe-tapping fiddle tunes masterfully played and lyrical ballads with Anne's heart-catching vocals SOLOWORKS is a major artistic accomplishment, and a personal triumph.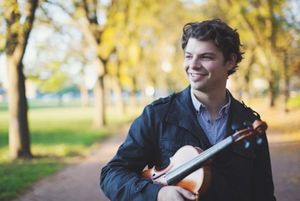 SHANE COOK- May 19 2016
      Canadian Shane Cook "rates at the top of the short list of the finest fiddlers in the world today," says the Canadian Fiddlers' Hall of Fame. Shane has distinguished himself as a leading exponent of the Canadian old-time fiddle tradition as well as a multi-instrumentalist who holds a deep mastery of musical styles ranging from Irish and Scottish to French-Canadian, Texan, and Bluegrass.
     In 2006, Shane retired from competitive fiddling as one of Canada's most highly awarded fiddlers. He is a three-time Canadian Open National Champion, a three-time Canadian Grand Masters Champion, a Grand North American Champion, and is the only foreign fiddler to win the US Grand National Championship, a feat he accomplished at just 17 years of age.
     The result of Shane's recent collaboration with long-time friend Jake Charron (The East Pointers) is their album Head to Head. Grammy-nominee and leading Irish-American musician Liz Carroll describes the 2014 project: "You can't get much better than this - Shane cranking it out on the fiddle with his innovative, hot-smooth playing, and Jake, alternating between guitar and piano, creating the perfect groove. Superb musicians, beautiful tunes, powerful music!"  
     Another collaboration, with Nova Scotia's Troy MacGillivray, earned a 2007 East Coast Music Award for Roots/Traditional Album of the Year by a Group/Duo for their duo project When Here Meets There.
Shane has four solo recordings and leads several configurations of his own band, Shane Cook & The Woodchippers. Shane also performs regularly with several ensembles including, The Great Canadian Fiddle Show, The StepCrew, and the PBS hit Bowfire, and has toured extensively in Canada, the US, the UK, Ireland, Germany, China and Taiwan. He is a graduate of Western University and resides in London, Ontario. www.shanecook.com
 
---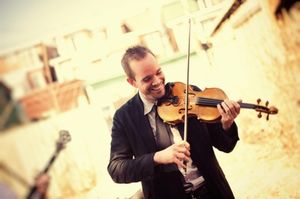 JOHN SHOWMAN - April 21 2016
As the founder of New Country Rehab and co-founder of the Foggy Hogtown Boys and the Lonesome Ace Stringband, John Showman has made his mark as "one of the very best and most influential fiddle players in Canada" (Steve Pritchard, CIUT 89.5 FM). Over an 20-year career spanning 4,000 shows across the continent and beyond, John has brought a hard-earned, professional understanding to the music he loves to play.John champions melody and groove above all else. His original style draws the raw drive of old-time Appalachian music; from the edge and attack of bluegrass; from the swing of Cajun and Texas fiddle; and from the haunting beauty of the Irish and Scottish fiddle traditions.





 
---
KELLY TROTTIER - February 18 2015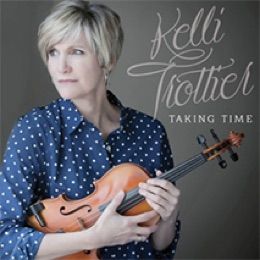 Born and raised in the hotbed of musical tradition and innovation that is Ontario's Ottawa Valley, Kelli Trottier discovered her passion for entertaining, learned her craft, and developed her distinctive style while still right at home. 
Now, Kelli's talent carries her to stages across North America, Europe, the Middle East, and the Far North, making fans and friends at every venue along the way.
    Kelli's musical odyssey of dance, fiddle and song began early in life as she studied and mastered the unique and fluid style of step-dance that evolved with the loggers and woodsmen of the historic Ottawa River watershed.  
    The fiddle was a natural extension of the dance; you just can't have one without the other.  And who better to learn from than the senior masters of Celtic and Scottish traditional music.  Kelli learned well from these sources and then embraced the exuberant rhythmic fiddle and step dance styles of the French Canadian pioneers. 
    Every musical family needs a singer and a songwriter and Kelli's family was fortunate that she had an amazing ear, a beautifully clear, natural voice, and the desire to use that voice at every opportunity.  Learning the songs she loved from the artists she admired, and giving them wings with her own effortlessly-developing style, soon led to the inevitable writing and performing of her own.
    Developing her art from these deep and lasting roots, while allowing the influences of contemporary music to help shape her performing and recording career, has earned Kelli a dedicated and growing following and glowing accolades from promoters, organizers and fans.
 
---
Adrianna Ciccone - November 19 2015
Few countries love the fiddle as much as Canada, and few young Canadian fiddlers today can show off the breadth and range of North American fiddling like Adrianna Ciccone.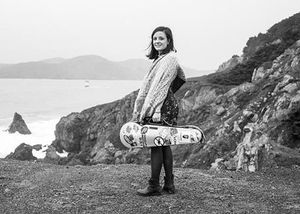 A native of Northern Ontario, on her much-awaited debut album, The Back of Winter, she crosses back and forth across the continent with ease, showcasing Scottish reels from Cape Breton, crooked French-Canadian brandys from Québec, the rollicking rhythms of Ottawa Valley stepdancing tunes, all the way down to Southern Appalachian stringband tunes; she even incorporates Irish and Métis influences.

Produced by world-renowned fiddler Bruce Molsky, The Back of Winter marks the introduction of Adrianna Ciccone to the world stage as a precociously talented fiddler.  As she remarks, some of these tunes have been in her head and fingers for more than a decade while she attended school and built her career.  Now at long last she's letting them loose to tear around the house (and mind the dresser!).  For this is dance music through and through – you can hear from the exacting rhythms of her fiddling that Adrianna is also an award-winning stepdancer.  

With Molsky at the helm, Adrianna gathered some of her best musical friends in Boston, like innovative pianist Neal Pearlman, Scottish harpist Mairi Chambeul, Cape Breton pianist Kimberly Fraser, cellist Eric Law, Boston Scottish fiddler Jenna Moynihan, clawhammer banjo master Allison deGroot, guitarist Flynn Cohen, and bassist Nate Sabat.  As a producer, Molsky looked to guide the arrangements and the shaping of the sound.  As he says, "What makes Adrianna extraordinary is her gift of not just technical virtuosity, but the ability and desire to try new ideas, musical languages and make the instrument truly speak."  A recent 2015 nomination for Instrumental Solo Artist of the Yearfrom the Canadian Folk Music Awards underscores the power of Adrianna's fiddling and the range of her vision.
 Raised in the Ottawa Valley fiddle tradition and greatly inspired by Québécois fiddling, Adrianna cut her teeth at fiddle camps across Ontario and Canada, and competed (and won many awards) in national and international fiddle competitions.  A recent graduate of Berklee College of Music in Boston, Adrianna took advantage of her time there to expand her dance fiddling to new traditions and to push her musical talent in new directions.  She also made fine friends among the other young traditional artists at Berklee, and if you listen you can hear the camaraderie between the tunes in this album.  Inspired by late night jam sessions in Boston, on the same ground where master Cape Breton, French-Canadian, and Ottawa Valley ex-pat fiddlers used to gather for dances, you can feel how comfortable each musician on the album is with each other, a comfort born of late nights and fine libations.  What's remarkable is that each of these musicians comes from very different backgrounds, but that's also a hallmark of Adrianna's work. Throughout the album she blends tunes seamlessly across traditions, with a Canadian fiddle showpiece like "Mouth of the Tobique" seguing tightly into an Appalachian fiddle tunes like "Horses on the Cane Break," or a Danish polska slipping effortlessly into a mysterious fiddle tune from Québec.  Besides traditional tunes, Adrianna also weaves in beautiful original compositions of her own that draw from a wide variety of traditions.  The title piece, "The Back of Winter," is a composition that evokes the refreshing feeling of first spring at the end of a long Ontario winter.  It's a full-bodied composition that takes the relatively simple and rigid structure of traditional fiddle tunes and expands it into something more akin to a statement. 
Throughout The Back of Winter, Adrianna Ciccone shows that she's thinking on a grander scale, and hungering to show the breadth of North American fiddling.
---
Ben Plotnick - October 15 2015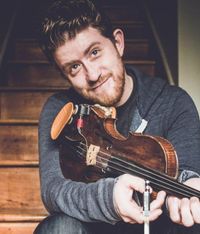 Ben Plotnick was born into a musical life in Calgary, AB. His parents are both professional musicians and teachers, and as such, Ben's lessons began at the  age of 5. Since he began playing classical violin 22 years ago, he has expanded his musical palette to include many other musical styles, such as Folk, Country, Celtic, Jazz, Rock, and many areas of world music as well.  Ben has had an incredibly involved musical adolescence. With organizations such as the Calgary Youth Orchestra and the Calgary Fiddlers, Ben has played for notable audiences from an early age. He led the Calgary Youth Orchestra's viola section in a sold out performance for Her Royal Highness Queen Elizabeth the 2nd of England, at the Penngrowth Saddledome in Calgary. He toured across 4 continents to places such as New Zealand, South Korea, the United Kingdom and all across North America. At the age of 17, Ben started the planning for a summer fiddle camp outside of Calgary. 'FiddleMania', as it was called, ran for 8 years and saw hundreds of students come through its doors.
Ben released 3 solo albums before the age of 25. He has shared the stage with or recorded for artists such as Anne Murray, Raffi, the Trans-Siberian Orchestra, Ian Tyson, Brett Kissel and Corb Lund, to name a few. Bands, orchestras and string quartets are playing his compositions all across Canada. He has finished in the top two on 5 occasions at the Grand North American fiddle championships and the Canadian Grand Masters fiddle championships. These days, in addition to freelancing in Toronto, his bands (bluegrass band Rye & Fairy Tales, western swing band The Double Cuts and old-time swing band The Conductors) keep him busy in Toronto and across the country. Whether he's performing for 30 or 30,000 people, with a country band or a bluegrass group, in a bar or on a festival stage, Ben continues to define himself as one of Canada's best young fiddle players.
---
Stephanie Cadman & Jeremy Walmsley - September 17 2015
Stephanie Cadman is that rare, extraordinary thing: a quadruple threat. A world-renowned dancer, an accomplished actress of stage and screen, a virtuoso musician, and a knockout singer, Stephanie's talents know no bounds. Maintaining a busy touring schedule both as a Canadian Folk Award-nominated solo musician and as a member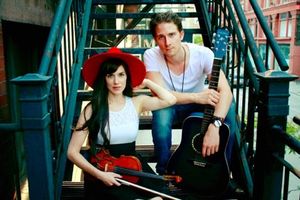 of the all-female country trio Belle Starr, Stephanie has rocked audiences across North America and beyond. For most artists, that would be enough. Not Stephanie. Between her role in the Mirvish Production of Once, her celebrated career as an in-demand fiddler, and her breathtaking and award-winning dancing, Stephanie Cadman has proven herself to be one of Canada's most versatile performers. 
    Stephanie began her professional stage career at a young age as a lead in the hit musical Swingstep. She went on to perform in Mirvish Productions' Celtic review Needfire, and the Broadway National Tour of 42nd Street. Widely-recognized as one of Canada's top violinists, Stephanie's stirring fiddle has also been featured in Bowfire, the dynamic all-violin stage show. Along the way, she has appeared as a fiddler and tap dancer with symphonies across North America including the Kennedy Center's National Symphony Orchestra. In her greatest coup to date, in 2014 she was cast in the Grammy and Tony award winning Mirvish production of Once, among the most beloved stage shows of recent years.
    Stephanie maintains a lively and successful career in popular music. She has released two solo albums, Celtic Blaze and the Canadian Folk Award nominee Foggy New Year, both of which feature her impeccable fiddle and lonesome voice. As one third of the Americana supergroup Belle Starr, Stephanie sings, plays fiddle, and serves as the band's percussionist as she tap dances through their jigs. Catching the attention of luminaries across the music industry, Stephanie has shared the stage with everyone from Oscar Peterson to the Chieftains, and toured with Carlos Nunez, Lunasa, Sharon Shannon and Lara St John. Along the way she has graced a laundry list of stages, from the grimmest dive bar in Brooklyn to the Royal Albert Hall itself.
Hailed by the The Guardian as an "incredibly talented" and "world-class" artist, Stephanie Cadman is just getting started.
    Jeremy Walmsley has established himself as a leading man on theatrical stages, film and television in Canada. Originally from Winnipeg, Jeremy trained in Theatre, Film and Television Acting and earned a diploma from the Academy of Acting College for Theatre and Film.
    Aside from his successful acting career, Jeremy is also an accomplished singer and musician. He is becoming widely recognized as one of the most talented new Pop-Jazz, Funk, Soul singers in Toronto, headlining reputable venues such as the Jazz Bistro Main Stage and events such as the Toronto Jazz Festival. Jeremy continues to impress audiences with his unique vocals and incredible musicianship on the drums, guitar, and piano.
-